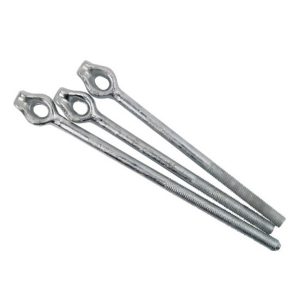 Guy wire anchor rod feature:
1. Breaking Load test: 62kn for 1 min
2. Hot-dip galvanized strictly according to ASTM-123
3. Uniform and reasonable packing
4. Size Accuracy 0.1mm.
5. Direct From Factory, Save 30%–50% Cost
The guy wire anchor rod with square nut is manufactured in hot-dip galvanized steel. The raw material steel is selected according to AISI-SAE 1018 or 1020. The carbon is not lower than 0.13% according to ASTM A36M. Zinc coating of 80 um, according to ASTM A-153.  The head of the guy wire anchor rod will be forged in one single piece with a single eye, twin-eye, or trip eye as attached drawings.The other side rod is with 8cm to 10cm thread length according to UNC. The UNC required 10thread per inch.
The heavy-duty square nut which assembled on the guy wire anchor rod is of galvanized steel with a minimum coating of 53 um, according to class C of ASTM A153. The square nut thread is made before galvanization.